The home of Mardi Gras, jazz, and vampires, there's no other city quite like New Orleans! It's a must-see for any traveler at some point, even if you only have a day in the city.
New Orleans, also known as NOLA or the Crescent City, dates back more than 300 years with French and Spanish ownership throughout its life and has become a true US melting pot of people, cuisine, culture, and language.
This city is Louisiana is known for its amazing food, eccentric party scene, and unique history. Come discover the best the city has to offer even if you have to do New Orleans in a day. Every day is a party in NOLA, so you better make sure you come to make the most of it during your little getaway.
Ready to plan your trip to the Crescent City? Here are our picks for the best things to do in New Orleans in 24 hours.
A one-day New Orleans travel itinerary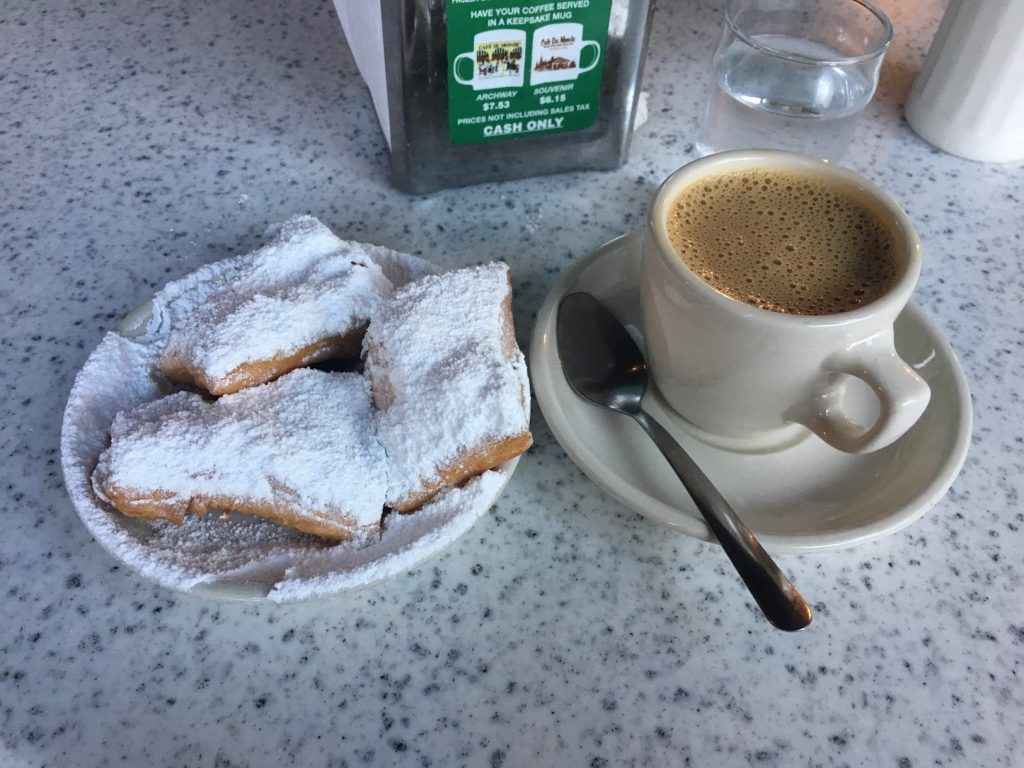 Cafe du Monde
Start with a trip to the famous Cafe du Monde and order their chicory cafe au lait and beignets (beware of frosted sugar coating everything you own). It's open seating so as soon as you see an open table, go for it! It's also good to know that the cafe is cash only, but their light bites and coffees are well-priced. An order of three beignets is just under $3 and a large cafe au lait is just over $4.
French Quarter walking tour
Next up, join the 10 a.m. walking tour of New Orleans' French Quarter to learn the history of the city – and visit the famous St. Louis Cemetery #1, home to Marie Laveau's tomb, as well as Nicola Cage's future burial site. Stroll along the historic streets of New Orleans' most popular district as you hear about the city's 300 years' worth of history.
St. Louis Cemetery #1 is only accessible with a certified tour guide so this is a great way to visit the cemetery while learning fun facts about the rest of New Orleans. Take in the city's stunning architecture, Old World charm, and understand why jazz is still so big here and why it's important to the city's culture and image on this two-hour walking tour. Who knows, you might need more beignets when it's done!
Jackson Square
Check out the cool buildings within Jackson Square, get some great pictures for Instagram, and stock up on souvenirs for your family and friends back home. Talk a walk around the public plaza and enjoy the historic buildings, beautiful Old World architecture, and modern shops.
New Orleans food tour
I know you've already learned about the French Quarter's history, but this time you'll be pairing your history lesson with some of the city's best seafood so I think you'll survive hearing a few of the same stories.
This three-hour New Orleans seafood food tour starts at 2 p.m. and includes stops at Tujague's for Creole cuisine, the Court of Two Sisters for seafood gumbo, Nola Po-Boy for, well, you guessed it, a po-boy, a stop at Cornet Restaurant with the largest balcony on Bourbon Street for Cajun and Creole dishes, including some delicious crawfish mac and cheese. You'll also stop at New Orleans Creole Cookery for char-grilled oysters before finishing your food tour of New Orleans at Laura's Pralines and Candies for a sweet treat.
Drinks are not included in this tour but you're in New Orleans, so you have to imbibe a little. Drink specials are available to tour guests that are 21 and older.
Horse-drawn carriage ride
Let your food settle by going on a romantic carriage ride in the French Quarter! You'll see them all lined up outside of Jackson Square and it'll be a nice break for your feet and your stomach as you let the horses guide you through the city. You can really feel like you've gone back in time in this historic city!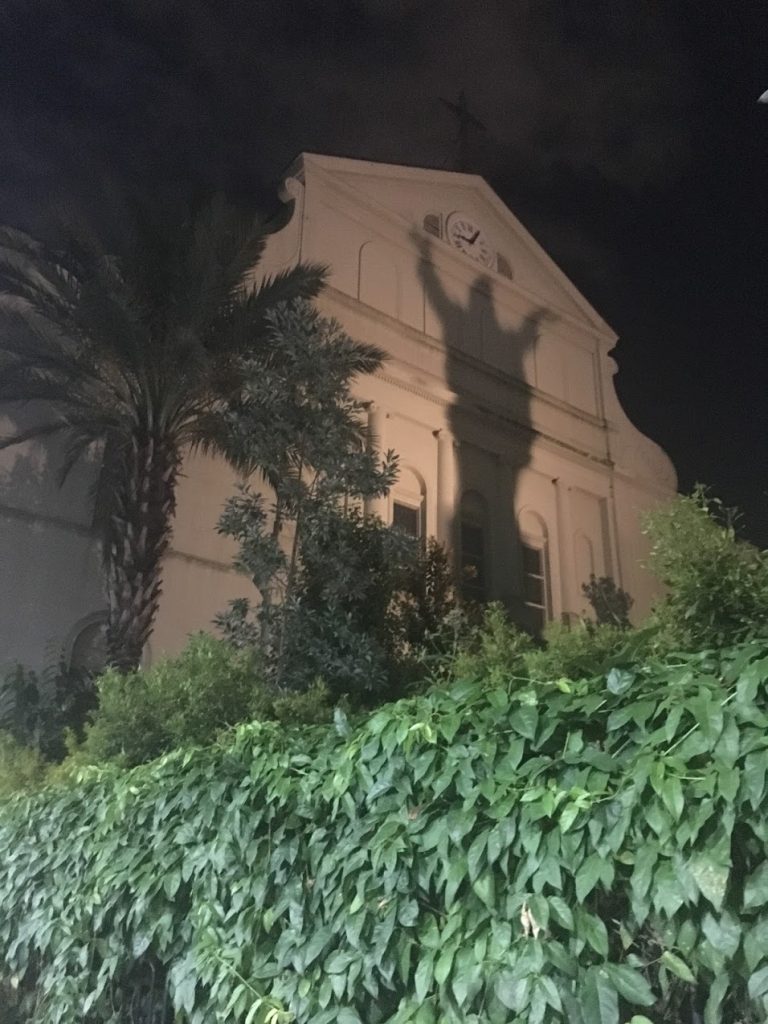 Ghosts of the French Quarter tour
It's time for new stories of New Orleans, this time of the haunted variety. Learn of the man who lost all his money gambling and killed himself, but now haunts a popular restaurant in Jackson Square. In fact, they make a table for him each night so he can join in on the fun. You'll hear of the evil deeds of Madame LaLaurie and how her horrible acts were brought to light by one of her slaves, who'd rather die than work another day for LaLaurie. You'll also hear about the boy ghosts that liked to have fun with their alive friends while they were sleeping.
The two-hour New Orleans ghost tour starts at Boutique Du Vampyre and if you're an Anne Rice fan or love all things vampires and gothic, I recommend getting there early to check out the shop!
Read my full review of the Ghosts of the French Quarter tour here!
Experience New Orleans' music and nightlife scene
New Orleans is the home of jazz, cocktails, and late night parties, so you better partake during your day here.
Restaurant Bar R'evolution
Just want a cocktail to soothe your nerves after hearing about New Orleans' haunted places? Restaurant Bar R'evolution serves up fun "Pre-Prohibition-era libations" and cocktails made with small-batch spirits and hand-crafted ingredients. It's a great place to unwind if you're not up for loud music but not quite ready for the party to end.
House of Blues
Go classic by catching a concert or performance at the House of Blues! They have a full bar, you better at least try a Hurricane while in New Orleans, and a restaurant in case you're starting to get your appetite back.
Frenchmen Street
Not sure what you're in the mood for? Walk down Frenchmen Street until you find a spot that catches your ear. With a mix of jazz, rock, and pretty much any type of music you'd want to jam out to live, you'll find it along this street.
Bourbon Street
Bourbon Street is the street for partying in New Orleans. Lured by neon lights, blasting music, and people spilling out in the streets, Bourbon Street is the street for nightlife. Seriously, just start walking and you'll find somewhere that catches your eye, and your ears.
No matter where you go for your nightly entertainment, I can promise you probably won't be getting to bed at a decent time. But hey, that's what NOLA's about!
What'd we miss from our one-day New Orleans travel itinerary? Tell us what you'd add if you only had 24 hours in New Orleans in the comments below or on Twitter!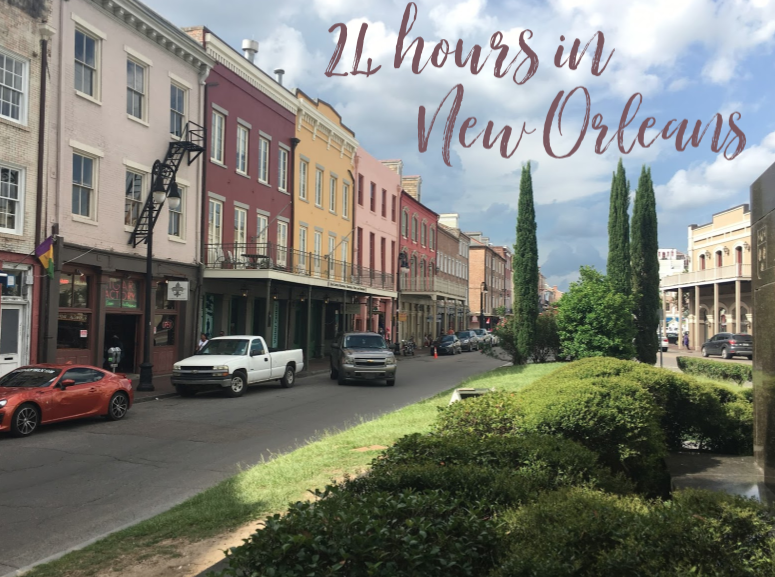 Like the post? Share it now!