After spending a day or two exploring Mexico City, it's time to discover fantastic nearby destinations on a great day trip! 
There are several easy day trips from Mexico City that'll take you back in time and to historic locations in different states of Mexico. From climbing the Pyramid of the Sun to climbing a volcano, there are plenty of cool things to do outside of Mexico City.
If you're planning an upcoming trip to Mexico City and want to know where to go when you have a day to spare, check out our list of the top 10 day trips from Mexico City, all within four hours of the city. 
Many of these trips can be done on your own, but most of them can also be booked on a guided tour and some are even combined on full day trips, like Puebla and Cholula. Whether you decide to go solo or with a group of travelers, these are the day trips you can't miss when staying in Mexico City. 
10 fun day trips from Mexico City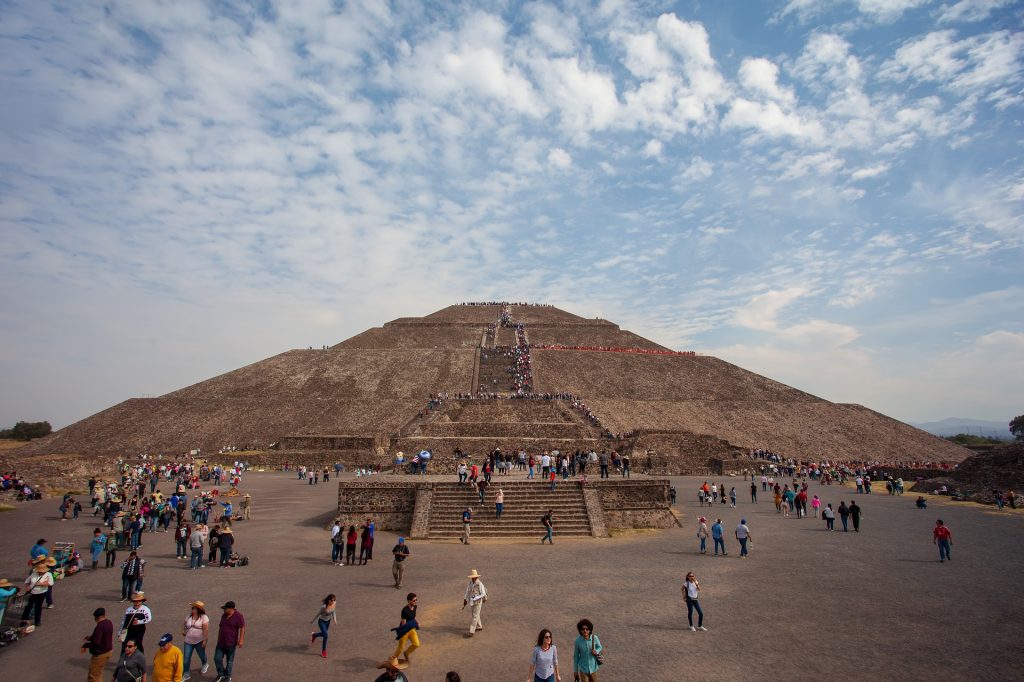 1. Teotihuacan
I was so excited when I went to Teotihuacan years ago as I love pyramids and am fascinated with ancient civilizations and it still remains one of my favorite day trips from Mexico City.
In the City of the Gods, you can visit the Pyramid of the Sun and the Moon and climb to the top of both these pyramids for amazing views from this Aztec city. Stroll along the Avenue of the Dead, see the murals in the Palace of Quetzalpapalotl, and get a closer look at artifacts found at the site in the museum. This UNESCO World Heritage archaeological site is a popular day trip and it's easy to see why when you arrive. 
Teotihuacan is about 45 minutes to an hour from Mexico City and you can take a bus there or go with an organized and guided tour. 
2. Taxco
I fell in love with the charming silver city of Taxco and hope you will too! Home to one of the largest silver mines in North America, and fine silver jewelry, this hilly city makes for a great day trip from Mexico City. 
Besides the fantastic shopping, Taxco is home to a gorgeous church, Santa Prisca, filled with intricate carvings and wonderful works of religious art, colonial-style houses, fun plazas, and tiny, winding alleyways. Try to find a restaurant or shop high on a hill for amazing panoramic views over the tiled roofs of the city.
You can easily find a great hacienda serving traditional dishes for a great bite to eat between museum visits and silver shopping. I bought a great silver bracelet there that's held up for more than 15 years. 
Located in the state of Guerrero, Taxco is about four hours from Mexico City, so a bit of a jaunt for a day trip but well worth it. 
3. Toluca
Escape the hustle and bustle of Mexico City and get back to nature by checking out Nevado de Toluca, a volcano surrounded by alpine landscape and two crater lakes. Be sure to give yourself time to acclimate to the altitude before hiking in this area. You can also find plenty of guided tours and hikes of this area that pick up from Mexico City!
Toluca is the capital of the State of Mexico and in the town itself, it has a wonderful cathedral, Catedral de San Jose, a lively main square, Plaza de los Martires, and the beautiful and lush Cosmovitral Botanical Garden, complete with stunning stained-glass murals. 
4. Puebla
A visit to Puebla is a must, especially if you celebrate Cinco de Mayo in the States! This UNESCO World Heritage site is a gorgeous city filled with colonial buildings and the colorful, ceramic Talavera tiles. This historic city offers plenty of opportunity to learn about Mexico's traditional industries and its culture. 
Puebla is the fourth-largest city in Mexico and has deep religious roots. The Santo Domingo Church is a big tourist draw for the town and is known for its Baroque-style Capilla del Rosario and gorgeous gold interior, as well as the Templo de San Francisco and the Puebla Cathedral. You could spend your whole day here just visiting churches. 
Puebla is also known for its university feel with a vibrant downtown area that's both modernized and historic. Be sure to check out the Ex-Hacienda de Chautla, a castle set in the middle of a lake, and for bibliophiles, head to Biblioteca Palafoxiana, supposedly the first public library in Mexico.
If you love authentic Mexican food, Puebla is a great destination for fantastic mole poblano! Of course you can also find other favorites like tacos here, but try the mole first. Then, you'll want to save room to indulge your sweet tooth with a trip down Candy Street, Calle de Los Dulces, for some authentic sweets, like camotes and tortitas de Santa Clara.  
It takes about two hours to get to Puebla, making it an easy day trip from Mexico City. 
5. Cholula
You might be thinking of the hot sauce when you hear Cholula, but this city, known as a Pueblo Magico, has a lot more to offer than spice. Located near the Popocatepetl Volcano and Puebla, this colorful city is a fan-favorite for day trips from Mexico City and is considered the oldest city in America!
Discover the Great Pyramid of Cholula, the largest pyramid by volume in the world, and the excavated tunnels below, and enjoy stunning views of the mountains and the volcano. The city is perfectly picturesque with the Popocatepetl Volcano rising behind the San Gabriel convent, and the warm yellow hues practically lure you into the city. 
Cholula is home to many beautiful churches, about 40 total though it's been claimed they have 365 – one for every day of the year, but the must-visit one is the Sanctuary of Our Lady of Remedies, which sits atop the pyramid. Another must-see in Cholula is the church of Santa Maria Tonantzintla. 
6. Iztaccihuatl Volcano
If you're seeking an adventurous day trip from Mexico City, the Iztaccihuatl Volcano is it! Climb the trail of this giant volcano to about 13,000 ft., the volcano itself summits at over 17,000 ft., in elevation for a challenging workout with unbelievable views. It's best to do this day trip with a guide.
The volcano sits on the border between the State of Mexico and Puebla. The name derives from the Nahuatl language and translates to "white woman" as the profile of the volcano looks like a woman lying down – and since it's covered in snow, it's easy to see where the white comes into play. 
7. Cuernavaca
Head into the state of Morelos and visit the capital city of Cuernavaca, about an hour from Mexico City. Here, you'll find gorgeous churches, interesting museums, and even royal residences in this colonial town, nestled in the Tepozteco Mountains. 
Known as the city of eternal spring, it definitely draws crowds for its pleasant year-round weather, beautiful landscapes and greenery, and its tranquil setting. 
Like in Mexico City, you can find murals by Diego Rivera in the Palace of Cortes, and you're welcome to tour the Cuernavaca Cathedral, dating to the 1500s. Discover the museums and markets or book a more adventurous bike tour to see more of the city. 
It's a popular spot for vacation homes, so expect some crowds on the weekends. You can generally get to Cuernavaca within two hours.
8. Cacahuamilpa caves
In Grutas de Cacahuamilpa National Park you can find this unique cave system, one of the world's largest in fact. Explore the subterranean tunnels, underground rivers, and enjoy the impressive array of stalagmites and stalactites. You can also find tours that offer rock climbing and rappelling if you want to add to your adventure. 
The caves were first discovered in 1835 and have since become a popular tourist attraction – though you cannot go on your own, you must go through a guided tour, which lasts about an hour. Also, it's worth noting that a lot of the guides do not speak English. 
The National Park is about two and a half hours away from Mexico City. 
9. San Miguel de Allende
This UNESCO World Heritage Site has much to offer day trippers in terms of architecture, music, art, and culture. San Miguel de Allende is considered one of the most beautiful cities in the country and is known for its cosmopolitan feel, and historical and architectural heritage. 
The colonial town sits on a hill and has incredible views of the valley below, as well as plenty of places to explore inside the city limits. Visit the San Miguel Arcangel Parish, a must-see, the handicraft market, and the Cañada la Virgen. 
Stroll the cobblestone streets, visit El Jardin, the central plaza, and try to stop at as many of the 350 restaurants that you can for delicious mole, tacos, and gorditas. San Miguel de Allende is touted as one of the most authentic and creative destinations in Mexico and worth the almost four-hour travel time from Mexico City. 
10. Tepotzotlan
Like Teotihuacan which kicked off this list of fun day trips from Mexico City, Tepotzotlan also has Aztec roots. The city is home to impressive museums specializing in indigenous and colonial culture and artifacts, as well as the UNESCO World Heritage Site of the Temple of San Francisco Javier. 
Many escape to this city to enjoy the pyramid and the sweat lodges or temezcals. You'll need to book your temezcal ceremony experience, which lasts about an hour and a half and includes the use of the hot room, music, and chanting. Some include massage and the use of oils to improve your health. 
Typically it takes about an hour to get to Tepotzotlan, but can take a few hours on the weekend when all the crowds are headed this way.
Did we miss any destination in our best day trips from Mexico City list? Tell us in the comments below or over on Twitter!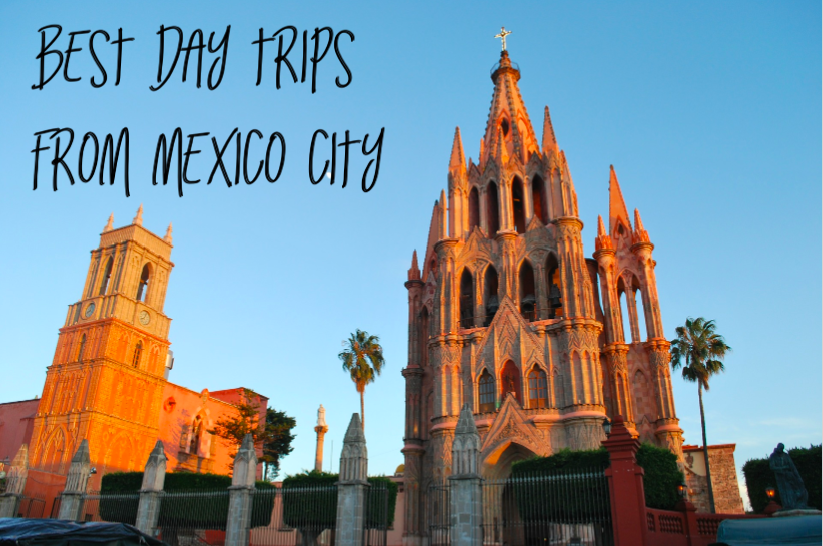 Like the post? Share it now!