I've shared some of our favorite packing tips in the past, but this time I'm highlighting some of my favorite travel-sized items to toss in your suitcase or purse for your next getaway!
Packing isn't always fun…
But there are some ways to save space for more important items, like that one pair of shoes you're packing that only matches one outfit, but it's the perfect outfit. If you're looking to save some space with travel essentials and accessories, here are some of my favorite items that are travel sized!
7 favorite travel-sized items for women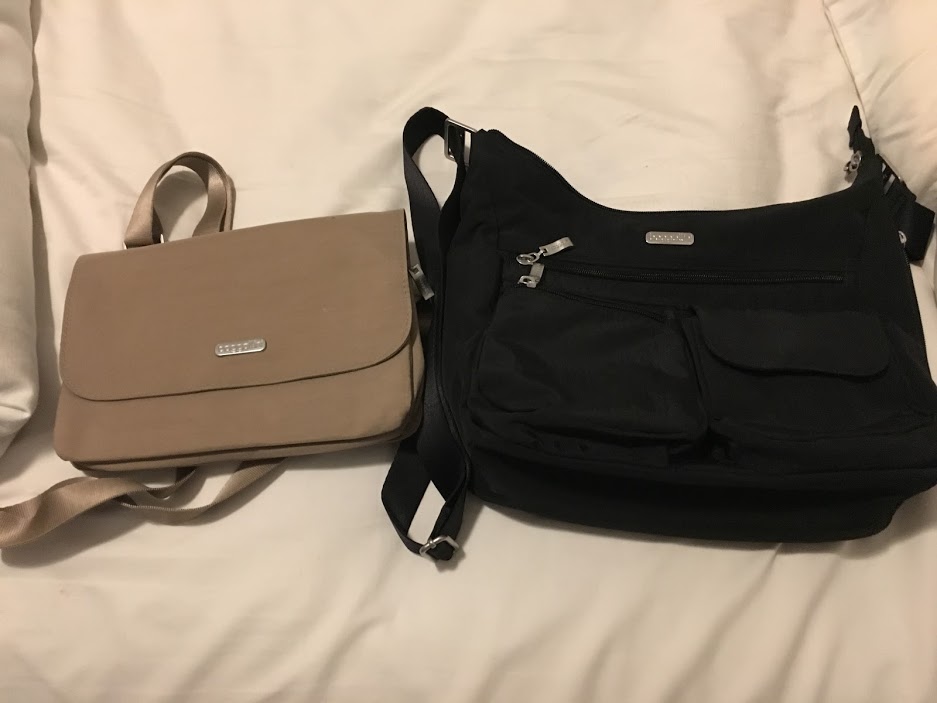 Travel day purse
I love my two Baggallinis, a bigger black day purse that I can carry a water bottle, sunglasses case, camera, phone, coin purse, and other items, and a smaller crossbody bag for less active days or going out for the evening.
Baggallini bags are designed for travel and are very sturdy and can hold up to anything. My smaller one lies flat, making it super easy to pack in my suitcase, and the bigger one is ideal for long days out and about and wanting to have everything with me. While not as slim as the smaller crossbody bag, this too can lay pretty flat when I need it to.
Foldable hair dryer
Most hotels have hair dryers, but if you're booking cheaper hotels to have more of a budget for dining and travel experiences, a foldable hair dryer (with both US and European voltage) is a great purchase. Mine worked better than some of the hotels I've stayed at, and its small size isn't an inconvenience when it comes to packing it up.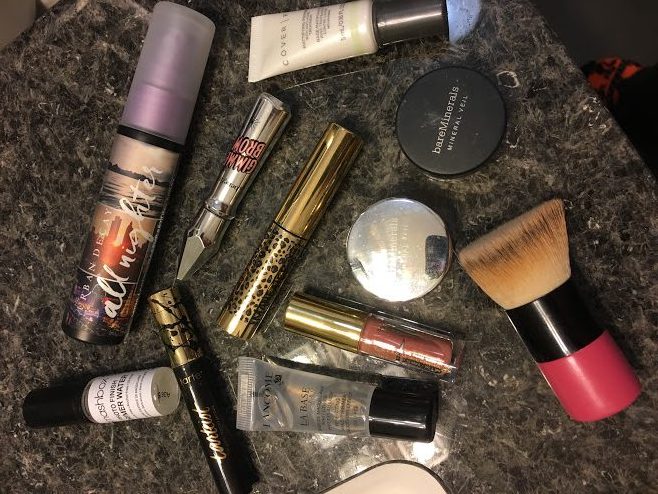 Trial-size makeup
Instead of taking a full-sized mascara or eyeliner, I get a few trial size options from my favorite brands. You can buy them individually or if your makeup brand makes try it kits or value sets, I just buy those and take the pieces I need from that, often you can get two items from a kit for the price of one on its own. Tarte has a few good try it kits with eyeliner, mascara, lip gloss, and sometimes primer, and Benefit Cosmetics has excellent kits for your brows. Bareminerals has a great selection of value sets for foundation and concealer but sometimes it's hard to find the perfect shade in those trial boxes. Look for boxes that say best sellers for the most variety with your travel sized items, and generally better quality.
Favorite makeup brands for travel:
Tarte maneater mascara
Urban Decay setting spray
Benefit Cosmetics eyebrow gel
Smashbox primer
Lancome mascaras and primer
MAC full face or eyeshadow palettes
Bareminerals foundation and powder
EcoTools makeup brushes
IT Cosmetics makeup brushes
Start shopping for travel size sets and value packs at Ulta!
Makeup remover
It's more expensive, but I love the travel-sized Neutrogena makeup remover wipes. They include seven wipes – perfect for a week away – and are so slim you can fit them in anywhere in your suitcase without taking up too much space. I always put mine in a ziploc baggie to keep them from drying out once the package is opened.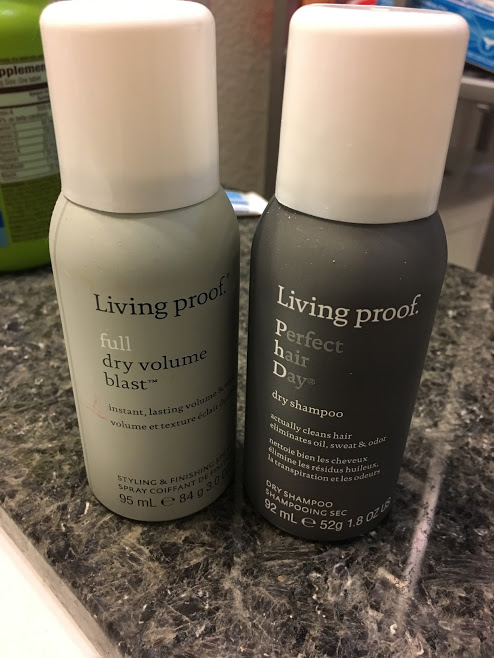 Hair care
From regular shampoos to dry shampoos and other hair care accessories, these are some of my favorite travel shampoos to keep my hair voluminous, shiny, and healthy. The Garnier and OGX are easily found at Target or a supermarket and relatively cheap, but if you're looking to keep a recent hair color treatment in tact while you put stress on your hair, opt for the Redken or Matrix products that are a bit more professional.
Favorite hair care brands for travel:
Garnier Fructis shampoo and conditioner
OGX coconut milk shampoo and conditioner
Redken color extend shampoo
Matrix Biolage ColorLast
Living Proof Perfect Hair Day dry shampoo
Living Proof Full Dry Volume Blast
Travel towel
Heading to the beach or staying in a hostel? Toss a quick drying towel into your bag! Even if you're not planning on sunbathing in the sand, you can always use this as a picnic blanket, a cozy blanket while on the plane or train, or to clean up anything that happens along the way. When folded down, they're very easy to pack and lie flat, so you can store it at the bottom of your bag or slip it on the top.
Laundry detergent
Tide has little packets of travel size laundry detergent that I toss in my bag when I know I'm packing light and planning on rewearing outfits a few times or when we're planning on being really active with hiking or working out on our trips. You might even want to toss in a clothes line in your suitcase, or plan on using your shower or towel rack to hang clothes to dry.
What other travel-sized item do you swear by? Share with us in the comments below or on Facebook!
Like the post? Share it now!