It shouldn't be a surprise that you'll be dining well when you visit Italy, but if you're off to Florence and want to dig into something traditional and local, you're in for a real treat!
With the rich soil of the rolling hills in the Tuscan countryside, it's easy to see why Florentine food is so flavorful and made with fresh ingredients, like tomatoes, mushrooms, olives, basil, and so on.
If you're looking for the must-try foods in Florence or some suggestions of the regional specialties, check out our recommendations for what to eat, what to drink, and what desserts to save room for in Florence!
What to eat in Florence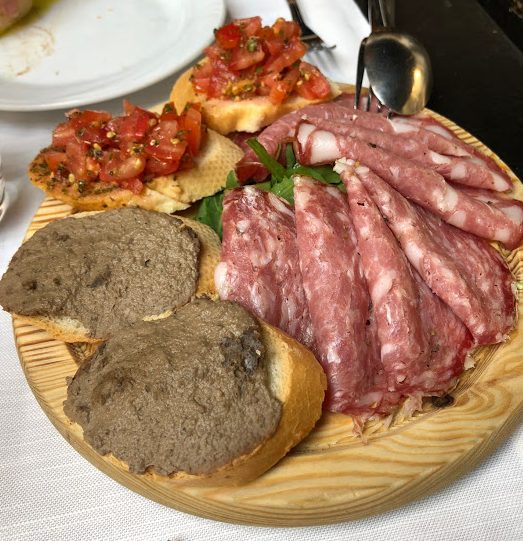 Antipasto
Start your dinner off right with some Tuscan appetizers! A favorite of the region is bruschetta (traditional bread with tomatoes and olive oil) or go local with crostini neri topped with chicken liver pate. You can also get some assorted meats, like salami or prosciutto to snack on while you wait for your main.
Pane Toscano
Chances are you'll also get served a basket of traditional Florentine bread though its crunchy exterior might remind you of French bread! Be sure to dip it in olive oil and some balsamic vinegar to add extra flavor. Fun fact: The recipe used today doesn't have salt! Back in the day (way, way back in the day) Florence didn't want to pay taxes to Pisa on salt, so they learned to bake without and the tradition carried on.
Papardelle al chinghiale
Imagine thick ribbons of pasta paired with a ragu-type sauce and wild boar. Similar dishes use rabbit or goose as the main meat, but if you're a fan of traditional meat-based tomato sauces, you'll happily dig into this delicious pasta dish.
Another similar ragu dish is pici alla ragu di cinta senese, but the pici pasta is rolled, resembling spaghetti, with a thicker, chewier texture. The meat is still boar, but from Siena this time.
Tagliatelle funghi porcini e tartufo
Another popular pasta dish, and ideal for vegetarians, is the porcini and truffle mushrooms-based meal. The pasta is similar to fettuccine as they're long, but flatter and a bit thinner. If you're a fun guy (sorry, couldn't help myself), you can't resist ordering this traditional and simple pasta dish.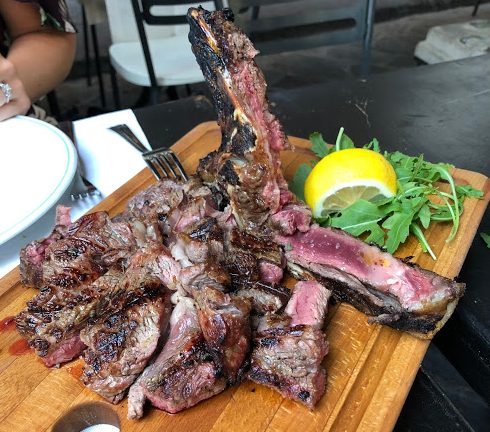 Bistecca alla fiorentina
You cannot visit Florence without treating yourself to this tempting Florentine steak. Be warned that you have no say in how the steak is cooked, which is rare. That's how it's cooked and that's how it's served and you will get dirty looks if you ask for it any other way. Enjoy the rich, smoky flavor and the light seasoning of salt, pepper, and lemon. This dish is huge and best shared between at least two people or even more dinner guests – Rick and I couldn't finish our bistecca alla fiorentina for two! The steak is served with roasted potatoes or other in-season vegetables.
Lampredotto
For the non-picky eaters out there or ones who really want to go authentic in Florence, try the lampredotto, or tripe (cow stomach.) A girl in our group ate this accidentally and she said she loved it until she got squeamish after hearing what exactly was on her plate.
Schiacciata
This bread is made with salt and is quite similar to focaccia and makes for great sandwich bread or even just on its own as its made with olive oil and topped with salt – giving it a very rich flavor. There's no wrong way to eat this popular Tuscan snack, as some even use it to replace the crostini bits and top schiacciata (meaning smashed) with cheese, olives, or other diced vegetables.
Ribollita
Translated to "re-heated," this lighter dish is a veggie soup made with cannellini beans and pieces of stale bread. The soup cooks overnight and then heated up before serving and poured onto bread and drizzled with olive oil.
What to drink in Florence
Aperol spritz
Have a happy hour with a local favorite – an aperol spritz! I've tried to fall in love with the cocktail but just can't seem to (there goes my idea that I was Italian in my last life), but Rick was more than happy to help me drink mine as he loved it. This Italian cocktail is made with prosecco, aperol, and a splash of soda water.
Vernace
In the mood for a regional white wine? Try vernace, made in the nearby, charming medieval town of San Gimignano. It's a dry white wine and considered an everyday or table wine in the area.
Chianti
Go classic with a chianti to pair with your steak or pasta dishes when dining in Florence. This dry red pairs very well with most food and must be made with at least 80% sangiovese grapes to be considered a chianti. Some winemakers blend other varietals like syrah or cabernet with the sangiovese grapes to soften the flavor.
Brunello
Another wine option in Florence is ordering a brunello – similar to chianti, but 100% sangiovese grapes for an intense juicy and spicy flavor profile.
Vino Santo
End your meal with a decadent dessert wine: Vino santo! This wine is like sherry as it's amber in color and a bit thicker than your typical glass of wine. Best of all? This wine is traditionally served with cantucci or a biscotto (cookie), that has a lovely almond flavor and complements the sweet wine quite well. Nowadays, you can also find the cookie made with hazelnuts or pistachios if you're feeling nutty. Dip the cookie in the wine to soften them up a bit (and enhance the flavor thanks to the wine) and enjoy!
Desserts in Florence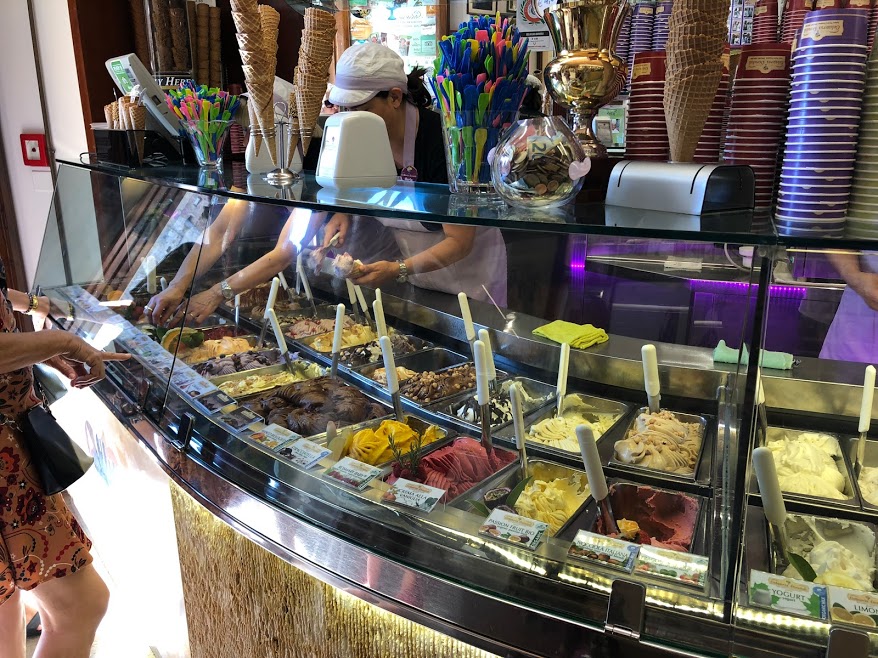 Gelato
There's really not much to say here besides you need to try gelato in Florence! It's never too early or too late in the day in Italy to indulge in this favorite cool treat.
End your evening in Florence with some of the best gelato – check out our recommendations for the best gelaterie in Florence!
Schiacciata alla fiorentina
Same word, this time for dessert! This sponge cake is made with whipped cream or vanilla pudding and has a light, semi-sweet flavor. Find it in a bakery by looking for the Florentine emblem, the "giglio," stamped in powdered sugar on the top.
Zuccotto
Want a variety of flavors in your dessert? Order a zuccotto and devour this little sponge cake that's been soaked in liqueur and served with candied fruit, almonds, toffee, and whipped cream – and then drizzled with chocolate. Yum!
What'd we miss from our must-eat foods in Florence? Tell us in the comments below or share your thoughts on our Facebook Page!
Like the post? Share it now!