Planning any vacation is fun but packing can always add an element of stress to your adventure as you don't want to overpack or underpack for your trip. Rick and I are both aware that we tend to overpack for everything but for our last cruise I tried to make sure we weren't packing unnecessary items.
If you're just going for a three- or four-night cruise, you should be able to get away with a carry-on bag, plus it'll be easier for you if you decide to do the self departure and have to carry your own bags off the ship.
If you've got a cruising vacation coming up soon, here are the top things you need to pack for your cruise.
11 things to pack for your cruise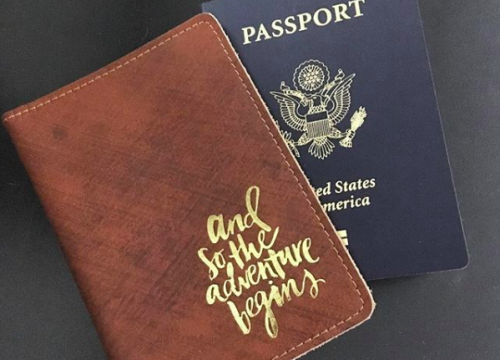 1. Passport
Obvious, but keep your passport on you for getting on and off the ship. We saw many people who realized their passports were safely packed away in their luggage and needed it to get through the cruise's terminal on our departure day.
Once you've gone through customs, you can secure your passport, but until then have it in your day bag, backpack, or purse and ready to scan.
2. OTC meds and sea sickness meds
Being sick on any vacation sucks, but even more so when you're dealing with small bathrooms or cramped cabin space. Pack a first aid kit that contains Ibuprofen or Tylenol, Benadryl, and Pepto or Tums for upset stomachs. You may also want an anti-diarrheal just in case the trips to the buffet aren't sitting with your stomach as well as you hoped.
If you get motion sick, I highly recommend bringing some Dramamine or Bonine along with you. This past cruise, I brought some motion sickness patches that you put behind your ear and they really helped – while I was on the cruise! The ferry ride in Mexico was another story and I should have taken a Bonine before we left. You could also buy the sea bands that use your wrist's pressure points to alleviate motion sickness, but I hate having things on my wrists so I opted for the stickies.
3. Toiletries
Cruise ship bathrooms are notoriously tiny and they aren't supplying you with shampoos, conditioners, and soaps. Our last cruise had a 3-in-1 option of shampoo, conditioner, and soap. My poor hair would hate me. Bring your own toiletries and make sure you have enough to last the trip, unlike hotels they don't have extras and purchasing them onboard is quite expensive.
4. A beach bag
Throw a beach bag or canvas tote into your luggage so you can haul your books, Kindle, phone, sunscreen, etc. down to the pool or off the ship. Many of the cruise ships allow you take towels off the ship for excursions and it helps having a bag big enough to tote them around, along with some personal items.
I also recommend throwing some Ziploc bags into your tote to protect your phone, cash, and cards from the pool or sand.
5. Swimwear
Another obvious choice but do not forget to pack a swimsuit, cover up, flip flops, and some sun protection like a hat or visor and sunglasses. I always pack two swimsuits as they're small and then I can let one fully dry before using it again.
6. Formal attire
Most cruises have a formal night where the gentlemen are dressed in suits and ties and women in cocktail dresses or jumpsuits. Throw a fancy date night outfit into your luggage and get ready to mingle with all the other well-dressed guests.
7. Wrinkle release spray
Most cruises don't have irons in the room so if you've overstuffed your suitcase and wrinkled your dress shirt, it's going to stay that way. Bring along some wrinkle release spray (it's travel-sized) to put your clothes back in pristine condition before you leave your stateroom.
8. Phone wallet case
With Royal Caribbean, our Seapass cards are everything: the way we pay for drinks, our room key, and entry on the boat when coming back from excursions so I want an easy way to carry it around, along with my phone and that's where a phone wallet case comes in handy! Just make sure to keep your Seapass card's magnetic strip on the other side of the magnetic closure.
9. Underwater camera case
I love our waterproof camera cases so I can take photos while we snorkel, swim, and just keeping it protected while by the pool. Alternatively, you could buy an underwater disposable camera if you want to go the old-fashioned route by printing your underwater pictures.
10. BYOB of wine (or two!)
Aboard Royal, we're allowed to bring two bottles of wine for our stateroom and this can really help cut down on drink purchases – unless you're already buying a drink package for your trip. Just keep in mind you have to bring it on on your carry-on bags, not the ones they check and deliver to your stateroom later.
11. Cash
Cash is always a must-have for any vacation and while your Seapass or room card can double as your credit card, you'll still want cash for any excursions, tipping, or gambling.
What are your must-haves when it comes to packing for a cruise? Tell us in the comments below or on Twitter!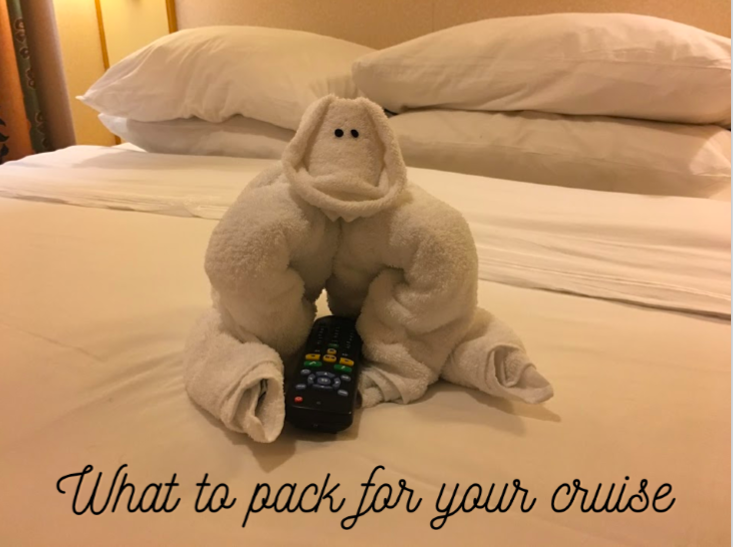 Like the post? Share it now!