I can't resist a theme so since Valentine's Day lands on the 14th of February, we're going to cover the 14 most romantic destinations in Europe for Old World charm, exquisite food and wine, and the right ambiance for a romantic escape to kick off the month of February.
No matter what time of year you decide to visit these romantic destinations, you're sure to find plenty of things to do and of course, plenty of things to eat and drink as you explore these fun travel destinations.
Best cities for a romantic European escape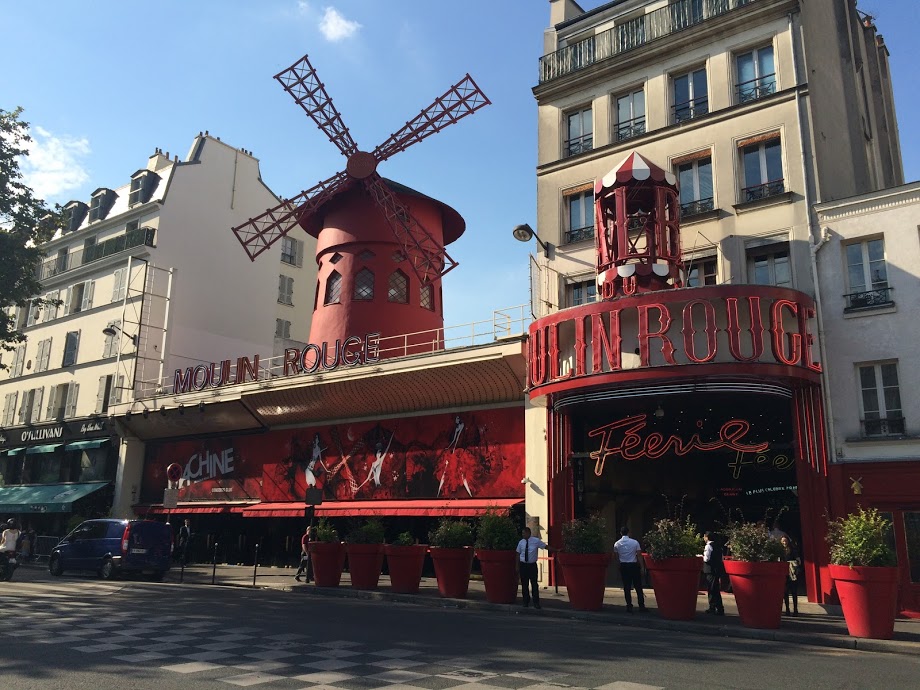 Paris, France
Ah, Paris, while it's officially the City of Light it might as well be the City of Love as it's one of the first destinations in mind when thinking of romance in Europe. From a kiss under the Eiffel Tower to strolling hand-in-hand in the Louvre, Paris is one of the best cities for lovers. Let out your inner Satine and Christian (just without the dying part) by watching a performance at the Moulin Rouge and see the city sparkle and come to life with a twilight cruise on the Seine. Start the day off with a pain au chocolat and coffee and end the day indulging in escargot, steak tartare, or a savory crepe – and do not forget to save room for some yummy macarons and champagne!
Add more to your Paris itinerary with our list of can't-miss experiences!
Vienna, Austria
This artistic and musical city sits on the Danube River and if the culture doesn't lure you to Austria, the stunning architecture and palaces surely will! Add a bit of whimsy to your Vienna getaway by taking a ride on the Riesenrad Ferris wheel – dating back to 1897 – where you can get a great view of the city and feel like you've stepped back in time, after your ride head out to a local cafe and get a bite of sachertorte, Vienna's signature dessert. Another tasty option is to book a wine tour of the city's wineries and sample Austria's fresh and light wines. One of the best tasting tours is at the Weingut Cobenzl winery where €20 gets you a tour and six samples!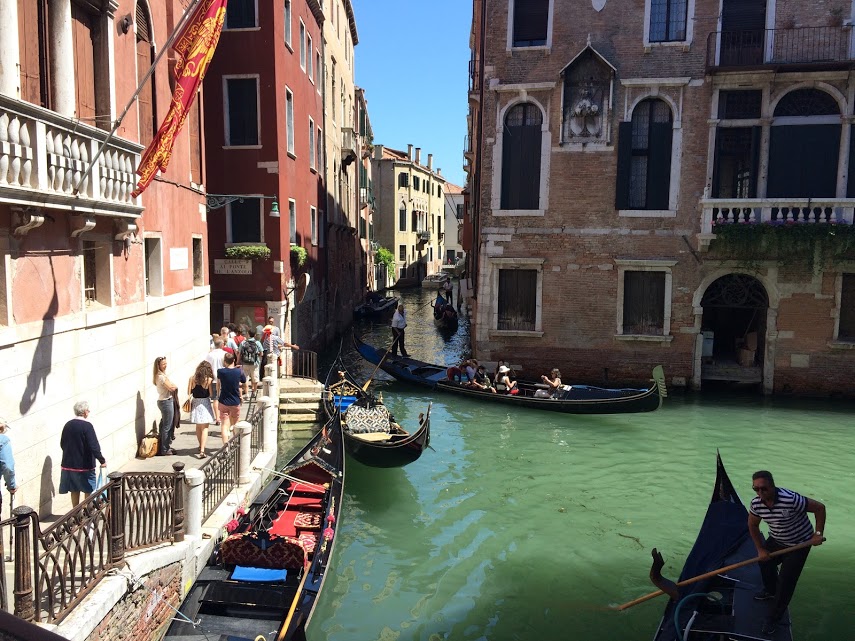 Venice, Italy
A romantic gondola ride, sipping prosecco, and having your own Lady and the Tramp spaghetti moment await in Venice. Venice is one of my favorite cities in Italy (OK, they're all my favorite), but with its unique location on top of the water, charming restaurants, and lots of little side streets to get lost in, it's definitely top five and one of my favorites for a romantic getaway. Beyond the major tourist attractions like the Basilica di San Marco, Doge's Palace, and Ponte di Rialto, there are plenty of things to do in Venice for couples to enjoy an intimate vacation together.
Need more ideas for a romantic trip to Venice? Check out our one-day Venice itinerary!
Champagne region, France
Another romantic region of France is the Champagne region – obviously well-known for its sparkling, fizzy wine! This area is a delight for any wine enthusiasts but also offers plenty of history and unique things to do for couples! Stroll L'Avenue de Champagne in Epernay and see Moet et Chandon, Mercier, and other world-famous champagne producers, visit the Cathedral of Reims, the Musee des Beaux-Arts, and see the exhibits at the stunning Villa Demoiselle. A little less hectic than Paris, the Champagne region is a great destination for couples.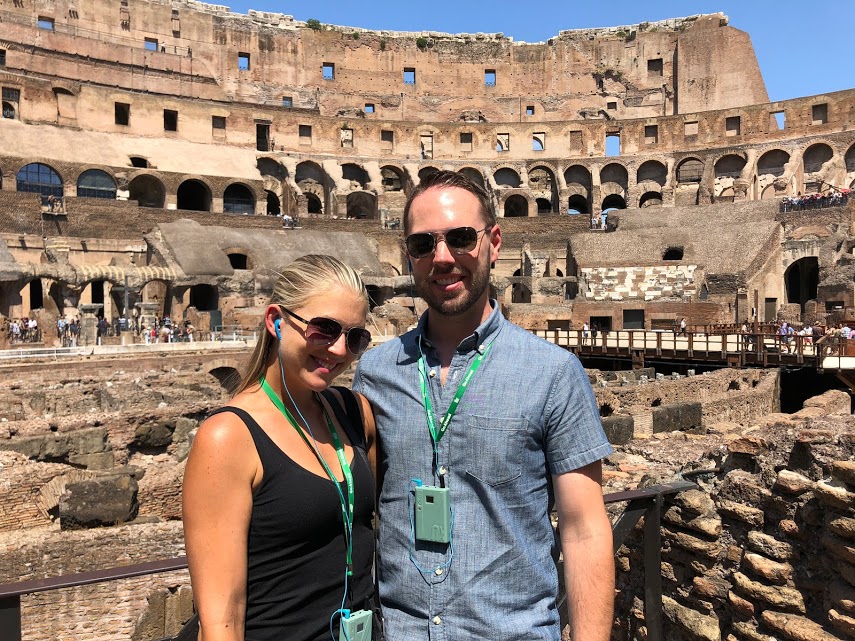 Rome, Italy
The Eternal City has so much to offer to all travelers and is an especially romantic destination in Italy. Couples can explore its architecture, famous attractions like the Trevi Fountain or Spanish Steps (ideal locations for an Instagram-worthy couples' travel pic), and of course treat themselves to the iconic food and wine scene of Roma. Rick and I love dressing up for special date nights and with the Italians' fashion-forward culture, it's easy to pack some nice date night clothes and try our best to blend in. No night of romance in Rome would be complete with a scoop or two of gelato, so be sure to save room for dessert!
Bruges, Belgium
Another charming European city complete with canals, intimate streets, and fantastic medieval architecture. Bruges is the destination for couples that prefer to share some beer together, which can be expertly followed by some hot, crispy fries and then some decadent Belgian chocolate! There are churches and museums to explore, but honestly just walking hand-in-hand throughout the quaint city is a great way to spend a date night in the city – just taking in the sights and getting lost together.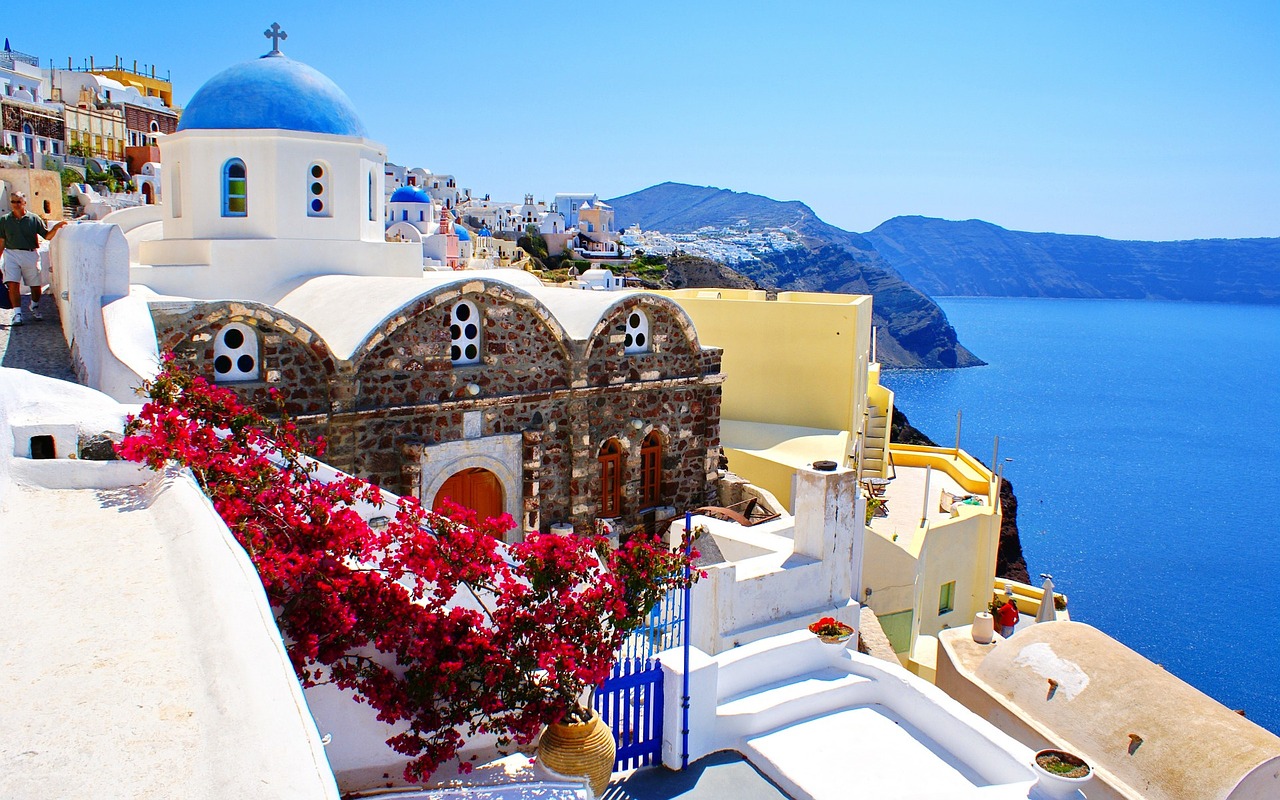 Santorini, Greece
Gorgeous architecture, stunning sunsets, and unique black-sand beaches are calling couples to come explore Santorini! This relaxed destination also has prehistoric settlements and with a fun ride to the top of Mount Profitis, you can take in beautiful views of the island – an ideal spot for a selfie of the two of you (a twofie?). While here, be sure to graze on exquisite Mediterranean dishes and flavorful white wine, and be sure to save room for Greece's drink: Ouzo!
Rothenburg ob der Tauber, Germany
This medieval beauty is on the Romantic Road – making it perfect for couples! If you want to feel like you stepped into a fairytale, this German city is right up your alley with its historic and colorful architecture, bridges, and Old World charm. The town has actually been used for many films, including inspiring some of the backgrounds used for Disney's Pinocchio as well as a scene from Harry Potter and the Deathly Hallows. This Hollywood setting is great for star-crossed lovers, and it even has a year-round Christmas shop!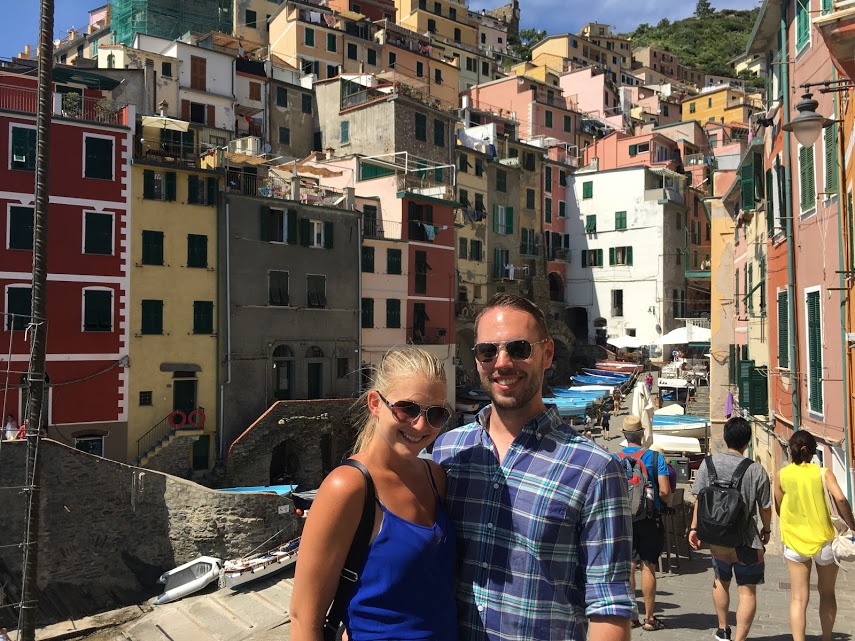 Cinque Terre, Italy
Another relaxed, cliffside destination for couples is Cinque Terre. Made up of five "lands" or cities, Cinque Terre is an ideal place for couples. Charming villages, authentic coastal Italian food, and of course an amazing hiking trail connecting the lands for the adventurous travelers (or if you just need to burn off all that pasta and pizza). Between sunbathing, exploring, and eating your way through these five villages, you and your partner will have an unforgettable time in this Italian region.
Need more inspiration for what to do in Cinque Terre? Check out our one-day Cinque Terre itinerary!
Split, Croatia
Perhaps it's because it's on the Dalmatian Coast (my favorite dog of all time is the Dalmatian) or because it looks so inviting, Split definitely makes the list as a fantastic travel destination for couples. With beaches, a great palm tree-lined promenade with restaurants, and museums, cathedrals, and art galleries, there's always something to do in this coastal city. The town has a main square, People's Square, but also many narrow and winding streets and alleyways for couples to explore and feel a world away from everything. Its Mediterranean location also makes it a great year-round destination!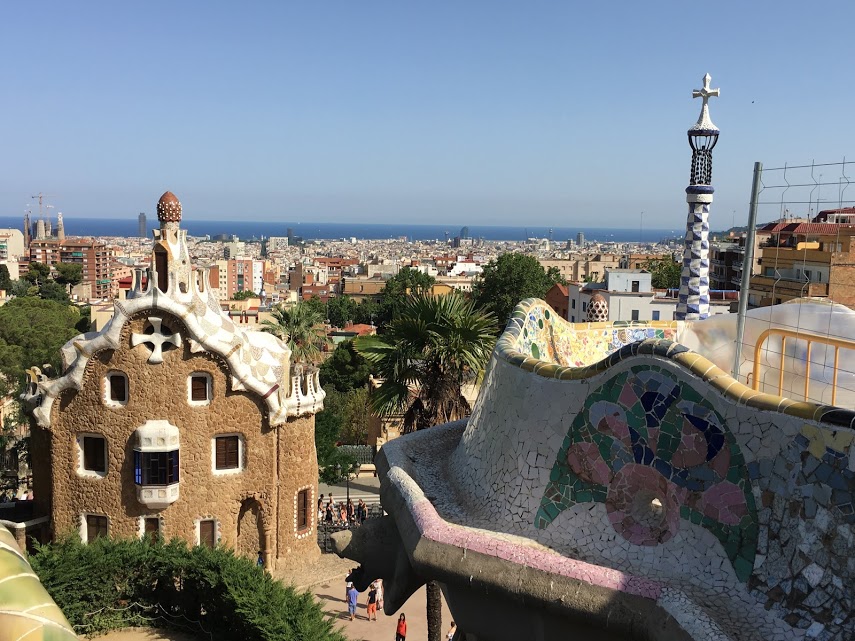 Barcelona, Spain
For a couple of explorers, you can't pass up a visit to Barcelona! Stunning architecture, a friendly culture, and to-die-for food is found in this vibrant city. Take a romantic stroll through Park Guell, stand in awe in front of Sagrada Familia, and enjoy a day of sunbathing on the beach on your romantic Barcelona getaway. Rick and I love doing our own little tapas crawls in Denver, so Barcelona's style of dining was right up our alley! We loved being able to stop for a bite and glass of wine here, some paella and sangria there, and then another stop for more tapas and wine at yet another place. It's a fun way to taste test your way through the city and enjoy walking through the neighborhoods at the same time!
Check out some of our favorite wine bars in Barcelona!
Porto, Portugal
Beaches, wine, and history are Porto's recipe for a great destination for couples. Discover the city on a walking tour or see the city by boat before diving in and enjoying some sunbathing, yummy and fresh seafood, and of course sampling some port wine for dessert. The city is known for its bridges and narrow streets – making it an ideal spot for an intimate getaway in Portugal.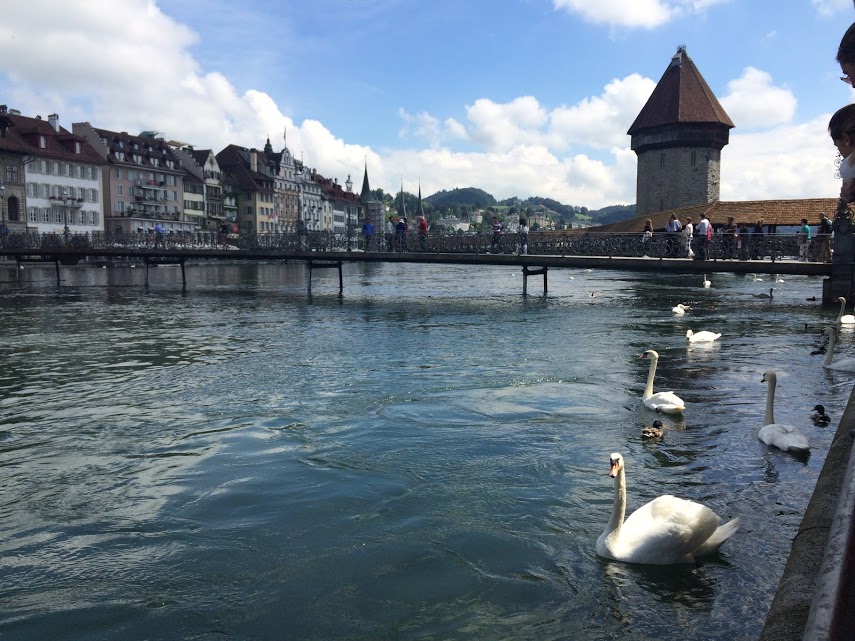 Lucerne, Switzerland
Take your love to new heights in Switzerland! Whether taking in the views from the ride to the top of Mt. Pilatus or making eyes at each other over your melting pot of cheese fondue, Lucerne is a wonderful destination for couples – though it does come with a big price tag. While you could spend the whole day in the city center, crossing the Kapellbrucke bridge, seeing the Lion Monument, or just taking in the colorful architecture – there are great adventures just across the lake! Be sure to let out your inner child or adventurer with a ride down the alpine slide!
Explore more things to do in Lucerne!
Amsterdam,  Netherlands
They may not be the canals of Venice, but Amsterdam has a lot to offer a couple of travelers! From beautiful art museums to the more risque neighborhoods and cafes, there's something for everyone in Amsterdam. Get some tulips for your partner, take a bike ride out to the windmills, enjoy some cheese samples, and maybe steer your partner away from buying a pair of clogs that they promise they'll wear back home.
What's your favorite city in Europe for a romantic rendezvous? Tell us in the comments below or on Facebook!
Like the post? Share it now!